NPOB vs Clifton – Rd 10
Friday, June 7 2019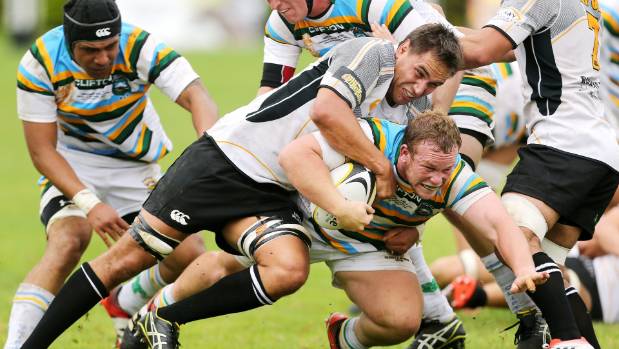 Last weekend (1st June) the senior sides played in wet and windy conditions at Vogeltown Park. The Premiers, Division 2 and Colts sides played Clifton while the Division 2 played Spotswood United.
BCD Group Premiers team secured a good victory over Clifton 33-20 after leading 33-6 with 20 minutes to play. Old Boys managed 3 tries in the 1st half to Daniel Waite and Jackson Carrington (2), all converted by Daniel Waite to 2 penalties to Clifton, to lead 21-6 at the break. Old Boys scored 2 tries in the 2nd half to Brent Tucker and Jarmarl Weir with 1 conversion by Daniel Waite. Old Boys dominated the game for long periods controlling the ball with lots of pick-and-goes around the ruck fringes. At 33-6 Old Boys with 20 minutes to go Old Boys looked pretty comfortable but Clifton came back with 2 converted tries against the run of play to make the final score 33-20. Players to stand-out for Old Boys with strong games were Adam Smith, Daniel Waite and Hamish Alabaster. The Premiers are now sitting in 4th place on the table 5 points behind the leaders Coastal. The games over the next 2 weeks will be critical for the team in securing a semi-final berth.
Alsco Division 1 team achieved a timely and much needed win to give them confidence going into the last 4 games of round 2 to hopefully earn a place in the semi-finals. A month out from the semis and Old Boys certainly required more commitment and accuracy to compete and hopefully win, and that's exactly what they did. Old Boys reducing the missed tackle count from around 25+ a game to a total of only 4. The teams kicking was 100% better with each kick finding its target whether exiting play from deep in our half or driving play deep into the opposition 22 followed by a solid chase and line defence. Structured play was more evident as phases were built leading to 3 first half tries to allow Old Boys to lead 15-0 at the break. Early in the second half Old Boys began to tire and concede penalties allowing Clifton to score a couple of tries after giving away 16 penalties on the trot. Team captain Jamayn Kepa who was on the sideline due to the flu, took to the field with 20 minutes to go and lifted the team to restructure and go on the attack. A push over try to Jamayn and a penalty to Josh Rei meant Old Boys were able to secure the win 23-12 and a much needed 5 competition points. Josh Smaller had a barn-storming game in the lose accounting for 19 tackles and numerous runs and deserved the Player-of-the Day award. Points also to Jacob Winstanley and Josh Rei for big defensive efforts and well-structured attack with Jacob gathering a charged kick and out-running the defence to score a superb first half try. The improvement was evident across the entire team but they also realise the focus now needed to forge a place in the top four going on from here. Old Boys face competition leaders Coastal this weekend.
The Pepper Construction Ltd Colts enjoyed a 28-5 victory but despite the scoreline didn't have things all its own way against a committed Clifton side. The weather conditions proved to be a great leveller. However Old Boys did defend well through-out the game and Clifton was only able to cross for a try in the 77th minute. In the last 2 games following a lot of work on defence and a new attitude the team has conceded only 3 tries compared with the 10 tries conceded in the previous 2 games. The team plans to continue to improve its defence around outstanding leaders and defenders Reef Robinson and Regan Gifford. Old Boys continued its way with scoring from set play moves with a line-out drive in the first half to Devin Lewis and then a blind side move where Fletcher Burnett scored. Cullen Murfitt finished with 4 conversations from 4 to tick over a 100 points and now goes to 105 for the season including 4 tries. The team has a bye next weekend and this will give them time to get over a few injuries. However the news is not so good for Fletcher Broderick who has broken one of his fingers and is out for an indefinite period.
Sterile Service Division 2 faced a very fired up Spotswood team hurting from a loss the previous week. Unfortunately the game became a niggly affair which was not usually the case when Spotswood and Old Boys meet but Spotswood ambitions were very clear and Old Boys were very much in the fight. The further the game progressed, Old Boys drew inspiration from the close battles and scoreline. Inevitability Spotswood began to dominate but Old Boys toiled hard, frustrating Spotswood's natural inclination to play a free-flowing running game. As it turned out Spotswood's dominance prevailed but perhaps not in the manner that their game plan warranted or as easy as perhaps they had expected. That said, it was a fair result given that Old Boys fought everything that Spotswood had to offer and in the end, Spotswood simply had the better team and finished stronger when it mattered. It was difficult to single out an Old Boys player who did not give all they had. Some great forward-based tries from some impressive forward drives kept Spotswood forwards honest and Player-of-the Day Shane Hamnet was immense putting his body on the line at any opportunity. Rian De Plooy was busy and in the mix of everything. Issac Cook, Whiskey Nairn and Mike Carruthers were again forefront to what was yet another brave performance.
This weekend (08 June) the Premiers, Division 1 and Colts sides travel to Rahotu to take on Coastal while the Division 2 side is at home against Patea. Match details are as follows:
Premiers                vs Coastal @ 2.45pm
Division 1              vs Coastal @ 1pm
Colts                       vs Coastal @ 1pm
Division 2              vs Patea @ 1pm
On Saturday night the club enjoyed a great night at the White House. Its fair to say the mechanical bull was the winner on the night successfully dealing with all comers without raising a sweat.
Key dates over the coming months are:
Final home match               22 June
Club finals                             13 July (Yarrow Stadium)
Senior Prize giving              20 July
Club AGM                            20 November
The Junior Club sponsor, Mark Newman Memorial Trust, will be holding its annual charity golf day at Fitzroy Golf Club on Friday 8th November 2019. All sponsors, players, parents and supporters are invited to participate in this great day out for a very worthy cause.
Updates on all of these events will be provided in due course.
The Club produced an Anniversary book for the past 100 years (Authors Chesty Earle, Paul O'Neill, Alistair & Marilyn Reid) and we still have some available @ $25.00 each. This is a great record of the history of the Club and would make a wonderful addition to your book collection or as a gift. If you would like to purchase a book please contact either Alison Reid 021-2447644 or Sue Mitchell 027-2985522.