NPOB vs Coastal – Rd 11
Thursday, June 13 2019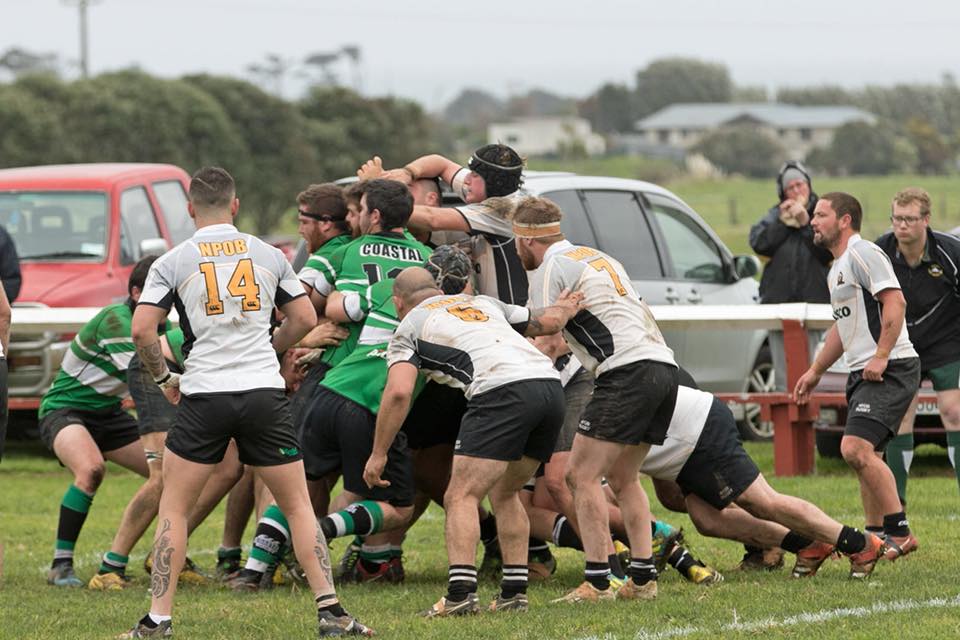 Greetings all.
Last weekend (8th June) the Premiers and Division 1 sides played Coastal in gusty conditions at Rahotu while the Division 2's played Patea at home at Vogeltown Park. The Colts had a bye and will be looking forward to a hit out this coming weekend after a rest week for some.
BCD Group Premiers team came up against a committed Coastal side in tough conditions going down 27-7. Old Boys managed to hold the ball for long periods playing into the wind in the 1sthalf but could not break Coastal's defence and trailed 17-0 at half time after conceding 2 tries both converted and a penalty. After a long period of play in the 2nd half inside the Coastal half Michael Loft scored under the posts which was converted by Daniel Waite but that was all the points that Old Boys could manage. In the last 20 mins of the game Coastal got onto attack on 2 occasions and scored 2 tries after some sustained pressure from lineout drives and pick-and-goes from their forwards. The conditions certainly favoured the larger Coastal forward pack and it was always going to be a tough day at the office especially after Mitchell O'Neill left the field with a broken ankle and leg midway through the first half. Players to stand-out for Old Boys were Shaan Waite, Thomas McElroy and Regan Verney. The Premiers find themselves in 4th equal place on the table 10 points behind the leaders Coastal. The games over the next 3 weeks will be critical for the team in securing a semi-final berth.
Alsco Division 1 gave a performance on Saturday that was fitting a team hitting their straps towards the business end of the season. In a howling westerly wind that shook the hardiest Coastal player and supporter alike, Old Boys played with shear guts and determination to beat the competition leaders on their own turf. Old Boys crossed the try line 3 times to 2, grinding down the Coastal attack to take the match 19-15. Defence in the midfield by Cole Paulin and Jacob Winstanley was matched by loose forwards Troway Hayes and Josh Smaller knocking down Coastal close to the ruck and out wide. Old Boys scrum and lineout dominance set the platform for attack with both sides having to play it close due to the wind – the scrum winning 5 tightheads while Gary Hoffman snapped 6 wins off Coastal throws at lineout time. Balancing attack on the blind and open side provided good options resulting in tries to Luke Nolly and Caleb Ritai with Josh Smaller also crashing over after a forward drive. Discipline is a key "work-on" with Old Boys conceding 4 to every 1 Coastal infringement. Double Man-of-the awards this week go to Ant Taylor with outstanding option taking at halfback and Jacob Winstanley with his 28 tackles and attacking runs. The team must continue to improve as they take on Stratford away from home this coming weekend.
Sterile Service Division 2 hosted Patea at Vogeltown Park home knowing full well that Patea, currently a Top 3 team, are always well drilled, organised and tough. Patea were indeed all the above – they were ruthless in their execution and their up-tempo game-plan combined with PODS out wide was designed to move away from Old Boys strength of keeping aspects tight. As such, Old Boys spent considerable time defending and when Old Boys did manage to tighten the game up, Patea defence was resolute. The forward battle was a physical encounter where often phases would be in double-figures. Old Boys backs toiled hard, and while set-piece play did not go their way given Patea's rush-defence – in broken play, they often stretched Patea's initial defensive line. However, as desperate as Old Boys were to score, Patea were just as desperate to prevent this. Man-of-the match Issac Cook had a game to remember while Alastair Nairn, Karl Anderson and Paddy Morris were again in the thick of everything again. While the score line does not reflect the Old Boys effort – significant mention goes to the U20 players who made themselves available (as U20's enjoyed a bye) and whose immense contributions assisted in making a very tough game less so. Front rowers Finn Brimelow and James Carley work rate was immense as time-after-time and they either just hit it up or defended. Reef Robinson, Jacan McDonald and Jordan Roylance – provided much needed go-forward ball and their last-line defensive efforts ensured Patea did not get things all their way.
In regard to the Junior Club it's great to see so many players out enjoying themselves with their mates. By all accounts it was another successful weekend for the Junior Club getting up to win a large majority of the 13 games. The Club would like to take this opportunity to thank the huge amount of parent help to get the Junior Club up and running and to keep it running smoothly – 13 home games takes a lot of energy to get moving from setting and pack up fields to watering and feeding over 300 mouths and then the dreaded clubroom clean up. We are now just over halfway through the junior season hopefully the weather gods continue to play ball.
This weekend (15th June) the Premiers, Division 1 and Colts sides travel to Stratford to take on Stratford Eltham while the Division 2 side travels further south to take on the Okaiawa. Match details are as follows:
Premiers                vs Stratford-Eltham @ 2.45pm
Division 1              vs Stratford-Eltham @ 1pm
Colts                     vs Stratford-Eltham @ 1pm
Division 2              vs Okaiawa @ 1pm
Key dates over the coming months are:
Final home match               22 June
Club finals                         13 July (Yarrow Stadium)
Senior Prize giving             20 July
Club AGM                          20 November
The Junior Club sponsor, Mark Newman Memorial Trust, will be holding its annual charity golf day at Fitzroy Golf Club on Friday 8th November 2019. All sponsors, players, parents and supporters are invited to participate in this great day out for a very worthy cause.
Updates on all of these events will be provided in due course.
The Club has some memorabilia available for purchase from the recent Jubilee available including clothing and Anniversary Booklet. The booklet by authors Chesty Earle, Paul O'Neill, Alistair & Marilyn Reid is available @ $25.00 each. This is a great record of the history of the Club and would make a wonderful addition to your book collection or as a gift. If you would like to purchase any items of clothing or the booklet please contact either Alison Reid 021-2447644 or Sue Mitchell 027-2985522.