NPOB vs Inglewood Rd 14
Tuesday, July 9 2019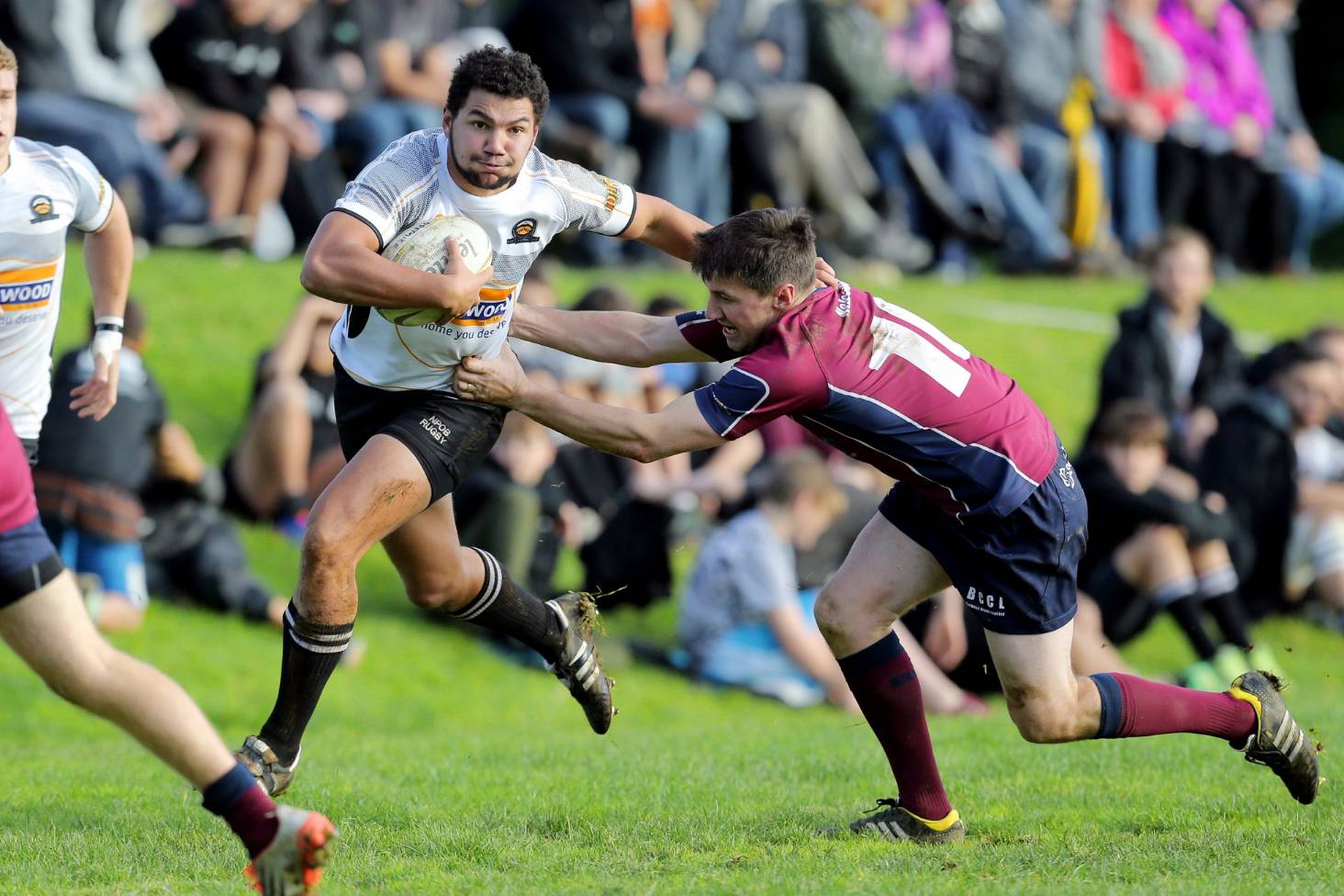 Greetings all.
Last weekend (29th June) the Premiers, Division 1 and Colts sides played Inglewood in fine and warm conditions at Inglewood while the Division 2 team travelled to Tikorangi to take on Clifton.
BCD Group Premiers needed a win and at least 4 tries to take maximum points from its match at Inglewood to ensure its place in next week's semi-final. Old Boys also had to rely the loser of the Clifton vs Tukapa being denied any bonus points as they both sat 4 points above Old Boys on the table. Inglewood got away to a good start scoring 2 converted tries and a penalty while Old Boys replied with tries to Brayton Northcott-Hill and Jamarl Weir, both converted by Daniel Waite allowing Inglewood to take a 17-14 lead at half-time. In the 2nd half Old Boys upped the pace of the game and took advantage of good field position scoring a further 3 tries with Brayton Northcott Hill scoring his 2nd and Daniel Waite picking up 2 tries, all converted by Daniel Waite who also kicked 2 penalties to take the victory 41-24. Old Boys then had to wait for the result of Clifton's match before celebrating the victory knowing they had secured 4th position on the competition ladder and a place in next week's semi-final. Players to stand-out for Old Boys were Jayden Ford, Daniel Waite and Brayton Northcott-Hill.
Alsco Division 1 ended its season on Saturday with a loss to Inglewood, finishing just 5th on the competition ladder just missing the final 4 for the semi-finals. The result was a disappointing end to a season that promised a lot early on but could not deliver when it counted. Saturday saw a pieced-together team after 15 players used in round two were either out with injury or simply unavailable. Those that took to the field played with heart and conviction but in the end – was out played by a determined Inglewood outfit. Players such as Levi McPhee and Ant Taylor worked hard as did the uncompromising McKerrow brothers. Cole Paulin and Troway Hayes again producing solid efforts. The team appreciated being able to field Premier players David Stark and the returning Logan Rei for parts of the match. Josh Rei played himself to a standstill in an effort to finish the season with a win. "Player of the Day" Trevor Garlick epitomised the effort with many barnstorming runs, as did injured skipper Jamayn Kepa when he took to the field in the second half. The team would like to thank coach Phil Gard, and the management staff lead by Blue Haddock for their efforts throughout the season and a big Well Done to the Premiers and U20's for making the semis and the best of luck to them both as they chase a championship title.
Pepper Construction Colts scored a resounding victory over Inglewood 64-7. The last game in the round robin was an opportunity to make a statement to the other semi-finalists and Old Boys raced to 47-7 half time lead. The previous game against saw Inglewood able to put 31 points on the board which included 5 tries taking advantage of some disappointing defence. This time Inglewood brought the same direct 1 off running with big forwards but Old Boys was able to negate with excellent chop tackling and then some very good ball stealing in the tackle. Old Boys took good advantage of the dry conditions with 7 tries in the first half and a further 3 in the second half. The team would like to congratulations the Premier Team for pushing through to the semi-finals after what has been a difficult season with injuries.
Sterile Service Division 2 team took on Clifton in a quarter-final appearance. Clifton have made great strides this year and they were motivated to ensure that playing Old Boys was not going to upset their path to the semi-finals. As such, Clifton were very disciplined in ensuring they maintained their structures, game plan and composure. For a time, Old Boys struggled with Clifton's pace and the power, but as has been the case many times this year, Old Boys grit and spirit reigned in Clifton's focus and at time, pressured Clifton into making mistakes and play the tight forward-orientated street fight Old Boys prefer. As a result, Old Boys backs were bending Clifton defensive screens where Mike Carruthers and Alistair Nairn were pulling every trick out of the book to bust the line. In fact a sweeping 35m try finished off by Mike Carruthers was as mentioned by Clifton supporters – one of the best team tries they have seen. Michael Peachy maybe the teams youngest player but was again fearless and while Riann De Plooy was playing on the wing (from the forwards) nursing a sore body threw himself into everything. Scott Rawlinson, Paddy Morris and Les Nairn mixed it up as per usual in the forwards but Player-of-the-Day David Hutchinson was all business as he trucked up the field with enthusiasm and defended with plenty of vigour. All-in-all it was another brave performance from a team who may not set the world alight, but have always played with pride and certainly left Clifton with plenty of respect.
For the Junior Club our Man-on-the-Bank was playing in Hawera with Old Boys securing a hard fought victory over a much improved Southern team who were looking forward to the rematch. The Juniors would like to wish the Premiers and Colts all the best for their up-coming semi-final matches and promised to be there cheering both teams along.
This weekend (6th July) the Premiers and Colts sides will be involved in the semi-finals. Both sides will be looking for strong performances to move to next weekends finals. Match details are:
Premiers                vs Coastal at Rahotu @ 2.45pm
Colts                     vs Tukapa at Vogeltown Park @ 1pm
The White House will be open after the Colts game and the Premiers game will be streamed live on the big screen for those who can't make the trip to Rahotu.
Key dates over the coming months are:
Club finals                         13 July (Yarrow Stadium)
Senior Prize giving             20 July
Club AGM                          20 November
Updates on all of these events will be provided in due course.
And finally a couple of reminders:
Junior Club sponsor, Mark Newman Memorial Trust, will be holding its annual charity golf day at Fitzroy Golf Club on Friday 8th November 2019. All sponsors, players, parents and supporters are invited to participate in this great day out for a very worthy cause.
The Club has some memorabilia available for purchase from the recent Jubilee available including clothing and Anniversary Booklet. The booklet by authors Chesty Earle, Paul O'Neill, Alistair & Marilyn Reid is available @ $25.00 each. This is a great record of the history of the Club and would make a wonderful addition to your book collection or as a gift. If you would like to purchase any items of clothing or the booklet please contact either Alison Reid 021 244-7644 or Sue Mitchell 027 298-5522.