NPOB vs Inglewood – RD 7
Friday, May 17 2019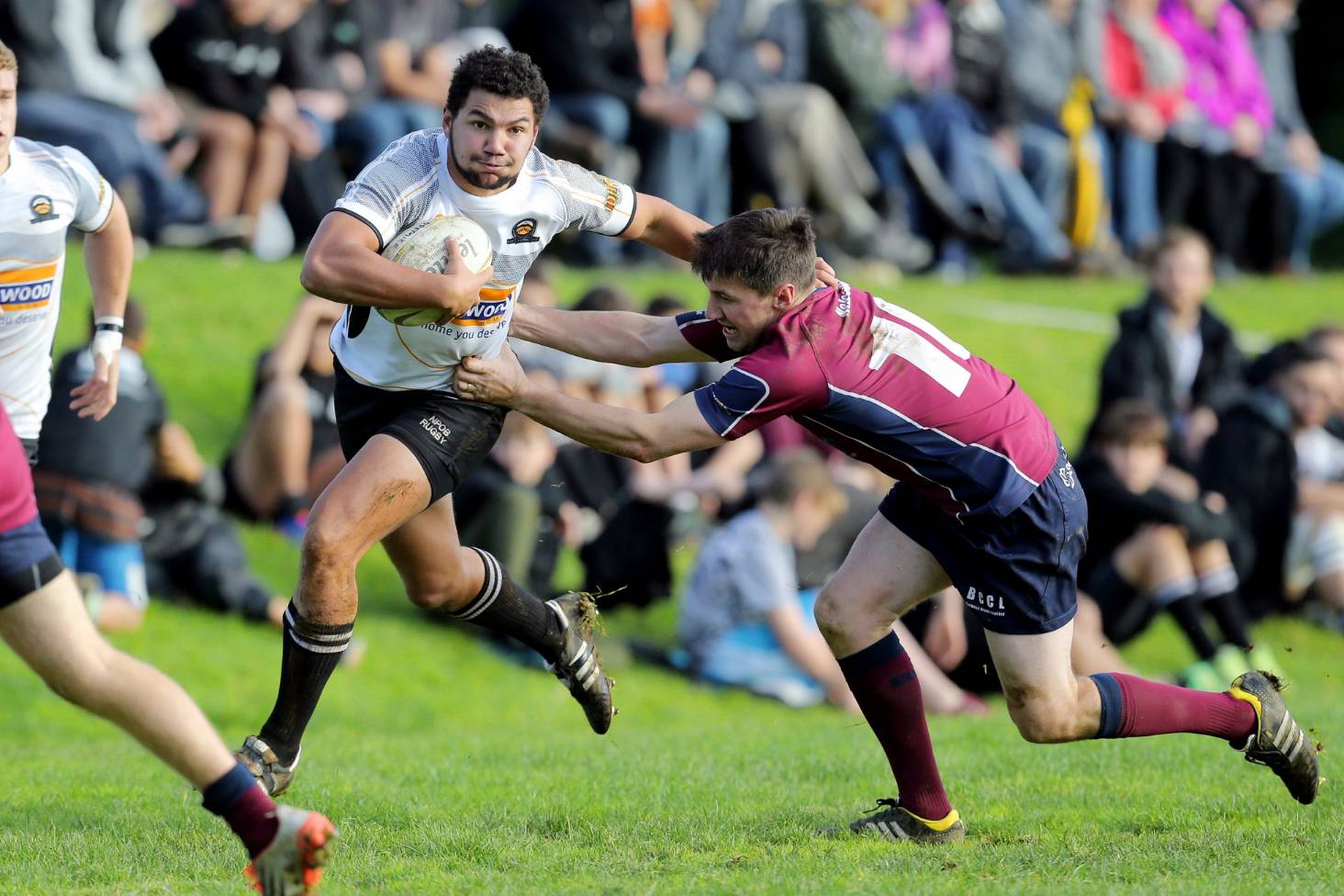 Last weekend the Premiers, Division 1, Colts and Division 2 sides played at Vogeltown Park in fine and warm conditions. The Premiers, Division 1 and Colts sides played Inglewood while the Division 2 side played Toko.
The BCD Premiers hard to fight hard against Ingelwood before coming away with a 23-20 victory. Old Boys started well with a sustained period on attack leading to a penalty for Old Boys to lead 3 nil. Inglewood then got onto attack and scored after a line-out drive which was converted. Late in the first half Jackson Carrington scored in the corner to lead 8 – 7 at half time. The second half was a pulsating affair with Old Boys kicking a penalty followed by a well taken unconverted try to Inglewood from a chip & chase for them to lead 12-11. Old Boys then had a period on attack and Jamarl Hapi scored out wide to lead 16 12. Inglewood then kicked a penalty before prop Victor Beech crashed over for a converted try to have Old Boys in front 23-15 with 10 minutes left on the clock. Inglewood bounced back well to score to trail by 3 points into the final minutes but Old Boys defence held allowing them to hold on for a 23-20 victory. Unfortunately key players Jamarl Hapi, Regan Verny, Brayton Northcott-Hill and Mitch O'Neill picked up injuries that will likely see them on the sidelines for a couple of weeks. Players to stand-out for Old Boys were Michael Loft, Jayden Ford and Regan Verney. The Premiers finished the round in 6th position 6 points behind 1st round winners Coastal (3 points now that the points are halved) in what is turning out to be a closely contested competition.
Alsco Division 1 played positive rugby for much of its match but couldn't overhaul Inglewood going down 36-27. Up 27-14 after 10 minutes into the 2nd half, Old Boys needed to consolidate and focus on keeping Inglewood pinned in there half. Instead, a number missed tackles allowed Inglewood to gain valuable territory and momentum to see them run out winners 36-27 denying Old Boys valuable points. The result will be a valuable lesson team going into a big game against Southern this coming weekend, the first of the second round. Some soul searching and commitment are required if this team wishes to play 7 or 9 more weeks of rugby. The team, very capable with good attacking structure, will need to harden its resolve defensively for the next few weeks. The team welcomes back Ant Taylor and Luke Nolly this weekend as well as the input of Gerard Mills from Premier duty. Player-of-the-Day match was Sean McKerrow for an 80 minute effort both on attack and defence. The team finished Round 1 in 3rd position, 6 points behind leaders Coastal.
Pepper Construction Ltd Colts finished Round 1 with a 54-13 victory over Inglewood. Leading up to the match the Coaches have had the luxury of a large squad (27) to choose from but with a number of injuries and the unavailability of other players the team went into Saturday's game with 19 players and no back reserves. While scoring plenty of tries the team was unable to play the game at a pace and with the width they wanted and lacked accuracy in execution in various parts of the field, in particular in its own 22. Inglewood used its huge forward pack to good effect on the back of a high penalty account in its favour to pressure the Old Boys defence scoring 5 tries in the process. The injury toll continues to rise with Terrell Erwood joined by midfielder William Luff meaning the pressure will be on the midfield in the upcoming weeks. Old Boys finished Round 1 unbeaten and as a team are pretty clear about how they want to continue to play the game and what areas need to be worked on. Cullen Murfitt continues to knock goals over from all over the park – he has now scored 86 points with 71 from the boot. Jarrod Ritson and Finn Hosking have scored 5 tries each. The team has scored 264 points and has had 104 scored against.
The Sterile Services Division 2 side enjoyed a tough match against Toko. It's great to see Toko field a side this year, as it looked at one point that they would have to pull out due to lack of playing numbers. Games versus Toko have traditionally been a forward battle and so it was again. Old Boys was fortunate enough to have sufficient players ourselves and fronted up well in the first quarter of the game. Toko scored first and Old Boys replied quickly with winger Rikky Enoka managing to evade a few tacklers scoring in the corner. Just before the half time whistle Toko managed to score again out wide after creating an overlap. The second half was much of the same with the battle being up front with Riaan Du Plooy tackling his heart out and Brent Cannard doing a great job in the front row. Unfortunately Old Boys was not able to score anymore points and as they began to tire Toko capitalised to score 2 more converted tries to take the final score 24-5. Belying his size and stature, Mike Carruthers fronted up brilliantly all game and tackled tirelessly to take the Player-of-the-Day award.
The NPOB Junior Club enjoyed another full morning of matches around the province on a perfect day for footy. This season the Junior Club has around 280 registered players and is fielding 17 teams in the U6 to U13 grades. The commitment and skill level of all players is very impressive and all games are played in great spirit. The Club would like to thank coaches and managers for all of their efforts and the enthusiastic parents who cheer from the sidelines positively.
Off the field the Club held an enjoyable social night at the White House on Saturday night with a golfing theme. All teams were well represented.
This weekend (18th May) sees the start of Round 2 with all senior sides playing at Vogeltown Park. All teams will be looking to start the 2nd half of the season well. Matches details are as follows:
Premiers vs Southern @ 2.45pm
Division 1 vs Southern @ 1pm
Colts vs Southern @ 1pm
Division 2 vs Kaponga @ 1pm
Other key events and dates over the coming months are:
Club night / entertainment: 1st June
Ladies bus trip: TBC
Club finals: 13th July (Yarrow Stadium)
Senior Prize giving: 20th July
Club AGM: 20th November
Updates on these events will be provided in due course.
The Club produced an Anniversary book for the past 100 years (Authors Chesty Earle, Paul O'Neill, Alistair & Marilyn Reid) and we still have some available @ $25.00 each. This is a great record of the history of the Club and would make a wonderful addition to your book collection or as a gift. If you would like to purchase a book please contact either Alison Reid 021-2447644 or Sue Mitchell 027-2985522.
Cheers
Keith and Owen