NPOB vs Spotswood Rd 13
Tuesday, July 2 2019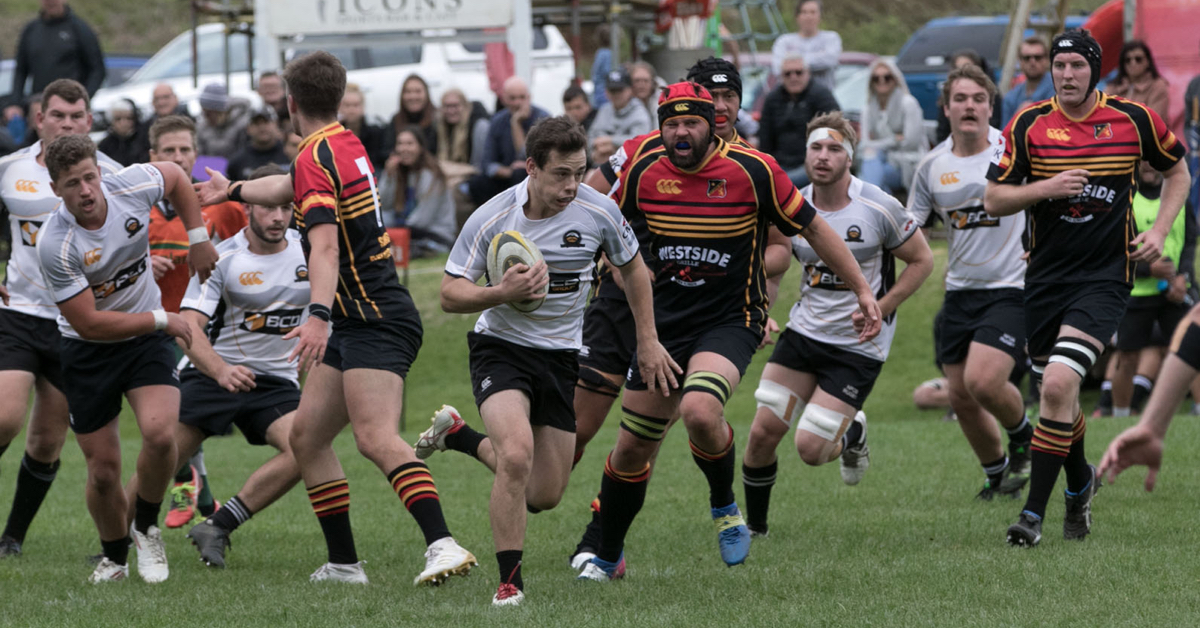 Last weekend (22th June) the Premiers, Division 1 and Colts sides played Spotswood United in fine and warm conditions at Vogeltown Park. The Division 2 team due to play Tukapa but had to default its match as injuries meant they had insufficient fit players to take the field.
BCD Group Premiers team lost its game 50-27 against Spotswood in classic game of 2 halves. Old Boys managed to stay in the game going into half time at 21-13 down after a try to Michael Loft and conversion and 2 penalties to Brayton Nothcott-Hill. The 2nd half started well for Old Boys with a disallowed try in the corner followed a short time later by a 2nd try to Michael Loft converted by Brayton Northcott-Hill to see Old Boys trailing 21-20 after 10 minutes. Spotswood then took control of the match for the next 20 minutes with its big all runners applying pressure in the tackles to score some great tries in an entertaining fashion to take a 50-20 lead with 10 minutes to play. Old Boys had the last say with Shaan Waite crossing for a 5 pointer which was converted by Liam McBride. Players to stand-out for Old Boys were Hamish Alabaster, Michael Loft and Shaan Waite. The Premiers sit in 5th position on the competition ladder and will need 5 points from the next match and have other matches go its way to secure a semi-final spot.
Alsco Division 1's season rested on a win Saturday against Spotswood. Unfortunately, the tightly contested match which saw the lead change several times throughout, ended with a 1 point defeat. An early Spotswood try was soon matched by a Luke Nolly 5 pointer that was converted by Caleb Ritai. Spotswood hit back with another try before Old Boys bounced back with another Jamayn Kepa push-over try also converted by Caleb Ritai to take the lead 14-12 with 4 minutes to play. Alsco Division 1 tried to exit and take play deep into Spotswood territory but conceded a penalty which was duly kicked giving Spotswood the lead 15-14 and eventual win. Old Boys again showed heart late in the match working their way towards the Spotswood 22m line to allow Josh Rei an attempt at a field to win the match but the ball slid past the left hand upright and the game was over. Old Boys now play for pride this coming Saturday and try to finish in 5th place, 1 point away from the play-offs.
Pepper Construction Colts enjoyed a free flowing high scoring game against Spotswood winning 65-37. The game went try-for-try until the last 20 minutes where Old Boys was able to consistently maintain possession and turn that possession into a flood of points. Spotswood had had the wood on Old Boys over the previous 3 games and the 1st round game was a close encounter. So for Old Boys it was pleasing to put 30 points on the team are that likely to be its semi-final opponents and force Spotswood to rethink its approach for the next encounter. Old Boys were disappointed to leak a few tries, and they will need to refocus on its defence systems.
On the plus side Old Boys scored some great tries, the best being a line-out drive from about 20m out and then 2 tries from players popping the ball off the ground to support players. Last year's Captain George Smith who spent all the pre-season and much of the first round just training without playing while he focussed running a marathon completed about 4 weeks ago, scored 3 tries.
Sterile Service Division 2 defaulted its match.
For the Junior Club our Man-on-the-Bank was able to watch a few games and yet again was impressed with the skill displayed. U7 White played an outstanding game, demonstrating impressive basic skills (catching, passing and tackling). Well done to the team coaches. A very close U13 's game was also a pleasure to watch with real determination and passion shown by both teams – unfortunately Old Boys fell just short against a very well-drilled Clifton team. The Man-on-the-Bank would like to congratulate the great bunch of parents involved in the club this year and has been very impressed with those who turn up at the clubrooms early each Saturday to help set the grounds and facilities, all with smiles and friendly banter and enthusiasm.
This weekend (29th June) in the final match of the round robin games for 2019. The season seems to have flown by. The Premiers, Division 1 and Colts sides play Ingelwood. The Division 2 side has finished its season. All teams will be looking forward to good performances to finish off the regular season in style. The matched this weekend are:
Premiers                vs Inglewood @ 2.45pm
Division 1              vs Inglewood @ 1pm
Colts                     vs Inglewood @ 1pm
Division 2              No game
Key dates over the coming months are:
Club finals                         13 July (Yarrow Stadium)
Senior Prize giving           20 July
Club AGM                         20 November
The Junior Club sponsor, Mark Newman Memorial Trust, will be holding its annual charity golf day at Fitzroy Golf Club on Friday 8th November 2019. All sponsors, players, parents and supporters are invited to participate in this great day out for a very worthy cause.
Updates on all of these events will be provided in due course.
The Club has some memorabilia available for purchase from the recent Jubilee available including clothing and Anniversary Booklet. The booklet by authors Chesty Earle, Paul O'Neill, Alistair & Marilyn Reid is available @ $25.00 each. This is a great record of the history of the Club and would make a wonderful addition to your book collection or as a gift. If you would like to purchase any items of clothing or the booklet please contact either Alison Reid 021-2447644 or Sue Mitchell 027-2985522