NPOB vs Stratford Eltham Rd 12
Tuesday, July 2 2019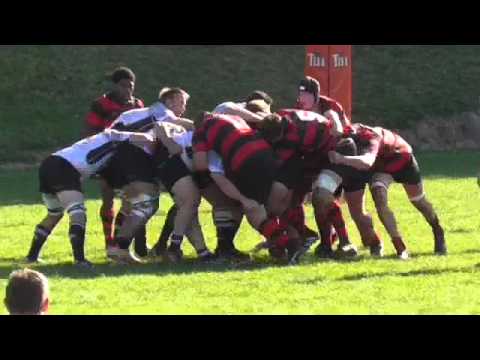 Last weekend (15th June) the Premiers, Division 1 and Colts sides played Stratford-Eltham in damp conditions at Stratford while the Division 2's travelled south to play Okaiawa.
BCD Group Premiers team ground out a tight 22-17 win but had to wait until the final minutes of the match to edge ahead. Stratford-Eltham had the use of the wind in the 1st half and used its big forward pack to good advantage and scored a try early in the match followed by another try from a lucky bounce of the ball that evaded a NPOB player. Old Boys hit back through a try to David Stark in the corner with an excellent side line conversion by Daniel Waite. Stratford-Eltham dominated much of the play for the rest of the half to lead 19-7 at the half time break. Shaan Waite scored early in the 2nd half to close the gap to 19-12 before Daniel Waite kicked a penalty to further close the gap to 19-15. After some concerted pressure close to the line in the closing period of the match Regan Verney scored close to the posts which was converted by Daniel Waite. Old Boys then negotiated the final play of the match to take the victory 22-17. Players to stand-out for Old Boys were Shaan Waite, Hamish Alabaster and Toby Burkitt. The Premiers sit in 3rd position on the competition ladder 6 points behind leaders Coastal and Spotswood United. The games over the next 2 weeks will be critical for the team in securing a semi-final berth.
Alsco Division 1 are not a team to make excuses but events before and during the game certainly played their part in Old Boys losing the Stratford-Eltham clash by 2 points. With a late try to captain Jamayn Kepa, Old Boys needed the conversion to draw the game but Caleb Ritai's kick unfortunately slid past the upright with time-up. Final score- 24-22 to Stratford-Eltham. Moments earlier Stratford-Eltham had been awarded a penalty try 35m out when a questionable intercept had a player run into the Old Boys half, the player attempted to link up with his only supporting player who was covered by two Old Boys backs. The pass was interfered with and the long range penalty try was awarded. It was a gutsy effort by Old Boys who were missing 3 key players from the Coastal win which was exacerbated when 1st five Josh Rei was lost to injury in the first minute followed by half backs Ant Taylor and Marty Campbell. Old Boys ended up with 2 locks and a loose forward playing in the backline. The forward pack however never gave up being ably lead by Trent Sutton who made numerous barging runs and deserved of the Man-of-the-Match award. Strong games from Luke Nolly, Troway Hayes, Cole Paulin and Caleb Ritai were still not enough but, this side, with a little solidity can beat anyone. Old Boys find themselves 5th on the competition ladder and must win the coming matches against Spotswood and Inglewood to secure the semi-final berth.
Pepper Construction Colts travelled to Stratford expecting a tough match and that is exactly what they got from a team that had recently beaten Southern, the only team to beat Old Boys this year. Old Boys scored an early try with Cullen Murfitt crossing the line which he then converted. Stratford-Eltham enjoyed a long period of attach forcing Old Boys to make numerous tackles to defend its try-line before Old Boys finished the first half with a try to Jordon Roylance to lead 12-0 at the break. The 2nd half followed the pattern set in the 1st half with an early try to Deken Rooks converted by Cullen Murfitt. Again Old Boys was able to hold Stratford-Eltham scoreless with some desperate defence. At times Old Boys was able to clear its line with some really good exits with Cullen Murfitt using the wind really well. Old Boys secured a solid 19-0 win in wet windy conditions and was pleased to hold Stratford-Eltham scoreless. Old Boys sit in 1st position on the competition ladder 9 points ahead of its nearest rival Spotswood United.
Sterile Service Division 2 travelled south to play Okaiawa. No report is available at this stage.
For the Junior Club our Man-on-the-Bank had commitments with his U11's team playing away in Inglewood so didn't see a lot of Junior footy this weekend. The Old Boys U11 White team played a very determined bigger Inglewood team who couldn't match Old Boys speed and Old Boys eventually came out on top. One moment our Man-on-the-Bank noted was watching the U9 White team having a goal kicking competition at the end of its training. The team showed some pretty good form converting more than they missed. The one thing that really stood out was how much fun the kids were having but also learning and developing skills so well done to the coaches.
This weekend (22th June) the Premiers, Division 1 and Colts sides play Spotswood United while the Division 2 side travels to Sanders Park to take on the Tukapa. All teams will be looking forward to good performances to secure play-off spots for the semi-finals. Match details are as follows:
Premiers                vs Spotswood @ 2.45pm
Division 1              vs Spotswood @ 1pm
Colts                     vs Spotswood @ 1pm
Division 2              vs Tukapa @ 1pm
We look forward to catching up with you during/after the match.
Key dates over the coming months are:
Club finals                         13 July (Yarrow Stadium)
Senior Prize giving           20 July
Club AGM                         20 November
The Junior Club sponsor, Mark Newman Memorial Trust, will be holding its annual charity golf day at Fitzroy Golf Club on Friday 8th November 2019. All sponsors, players, parents and supporters are invited to participate in this great day out for a very worthy cause.
Updates on all of these events will be provided in due course.
The Club has some memorabilia available for purchase from the recent Jubilee available including clothing and Anniversary Booklet. The booklet by authors Chesty Earle, Paul O'Neill, Alistair & Marilyn Reid is available @ $25.00 each. This is a great record of the history of the Club and would make a wonderful addition to your book collection or as a gift. If you would like to purchase any items of clothing or the booklet please contact either Alison Reid 021-2447644 or Sue Mitchell 027-2985522.