NPOB vs Tukapa – Rd 9
Saturday, May 25 2019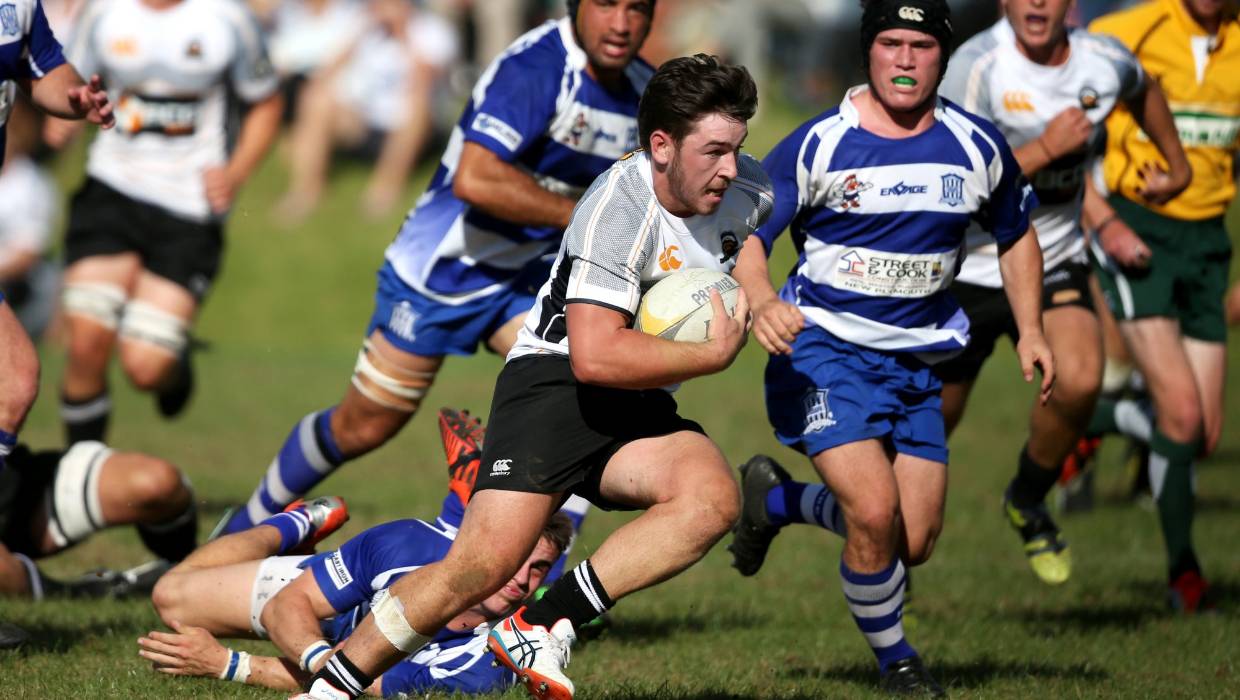 Last weekend (25th May) the Premiers, Division 1 and Colts sides travelled across town to take on Tukapa while the Division 2 side travelled to Bell Block.
The BCD Group Premiers team couldn't make it 2 wins on the trot going down 29-11 to a committed Tukapa side 29-11. Tukapa started with strong pressure on the Old Boys line and inevitably scored to take a 7-0 lead. Old Boys managed to pull the scored back to 10-6 at half time with penalties to Liam McBride and Daniel Waite. Going in to half time the team would've been happy with the score considering the amount of defence they had to do. Old Boys needed to start the second half well however continued pressure and good finishing provided Tukapa with a further 3 tries in the 2nd half while restricting Old Boys to a try late in the match. The team would've been disappointed with their execution in the key attacking areas of the field. Players to stand-out for Old Boys were Hamish Alabaster, Michael Loft and Gabe Lauderdale-Smith. The result sees Old Boys 5th in the competition standings, 2 points outside the top 4 and 7 behind the competition leaders.
The Alsco Division had a very good 1st half but that effort was marred by a woeful second half effort. Old Boys ran up 15 points by the 30 minute mark without Tukapa firing a shot. Dominance at scrum and lineout was equalled by some solid defensive work with both backs and forwards working well on the D line. Unfortunately, Tukapa were able to run wide on 2 occasions late in the first spell and closed the gap to 3 points at the break. These tries seemed to dent Old Boys confidence because the second half defence lacked any fight with Tukapa running in another 24 points to take the match 36-20. A disappointed Old Boys team must lift its efforts to gain credibility in the remaining games. Player-of-Match Troway Hayes worked extremely well both on attack and defence and along with Captain Jamayn Kepa were 2 to stand out. A hardened resolve must envelope Old Boys for the remainder of the round robin as they find themselves 3 points off the top 4 and must work hard for a semi-final berth over the next few weeks.
The Pepper Construction Ltd Colts were pleased to come away from the chook shed with a comprehensive 31-14 win. Tukapa started well and spent lengthy periods of the 1st half camped on Old Boys' goal line. Fortunately after lots of practice this week on defence and in particular chop tackling Old Boys was able to keep Tukapa scoreless. The highlight of the first half was a charge down, re-gather and a 50m sprint for Captain Jesse Goodwin to score under the posts. In the 2nd half Jarrod "Jabba"' Ritson scored from a phase play move Old Boys had been working on during the week. Jarrod has now scored 7 tries and Cullen Murfitt has 97 points which includes 4 tries. Tukapa pinned Old Boys in its 22 for much of the half but Old Boys defence held, the only chink being a 2ndtry to Tukapa after 37 minutes. Over the last few weeks a lot of time has been put into the scrum which is really paying off and the line out continues to be a great attacking platform. On the negative side the teams injury list continues to grow – the latest casualty being Fletcher Broderick with an arm injury who looks likely to be out for maybe 6 weeks.
Sterile Service Division 2 travelled to Bell Block fully aware that a bruising encounter awaited them and as it transpired that was the case. Bell Block play an abrasive, confrontational brand of rugby which is expected given the rugby-league influence amongst its playing-roster. Coupled with their ambition to finish higher than last year's semi-finals, Bell Block were all business. However, it was yet another brave performance from Old Boys who may not have the firepower of Bell Block, but demonstrated their tenacity and grit with a determined effort. The game became a case of two very different styles of rugby – Bell Block were ever-expansive with firepower across the field whereas Old Boys strived to keep the confrontation tight. This meant a long day for the forwards but another dogged performance from Player-of-the-Match Mike Carruthers with Scott Rawlinson caused Bell Block a few frustrations. Throw in Riaan  DePlooy, Michael Peach and Brent Cannard who thrived in the forward exchanges, and Bell Block had to change their game plan to seek parity wider out. Even so, Nephi Ngatai was immense in midfield and his presence on attack and defensive hits certainly ensured Bell Block worked much harder than they expected to. With what ball Old Boys did get, Alastair Nairn continues to put his team mates into space and was always creative in his attack-options while Paddy Deegan, Kelly Hill and Issac Cook were at their annoying best.
The Junior Club enjoyed another perfect day for running rugby as the teams took to the fields around Taranaki. Our "roving reporter" managed to take in and U7's match and was impressed at the skill level, the attacking ability and committed defence of both teams, which can be tough to coach into little ones. Our "reporter" was also called on to referee an U11's game and again was impressed at the level of commitment shown, noting that as score started to blow out a bit in Old Boys favour they managed to keep their shape despite the score so great work to those involved with both teams. Our "reporter" also made mention of the numbers of girls playing our game and how well their game is developing so keep up the great work girls.
This weekend (01 June) all senior teams play at Vogeltown Park. Match details are as follows:
           Premiers                vs Clifton @ 2.45pm
           Division 1              vs Cligton @ 1pm
           Colts                     vs Clifton @ 1pm
           Division 2              vs Spotswood @ 1pm
After Saturday matches the Club will be holding a social night with entertain and music. Once again the mechanical bull will be featuring and as with previous nights will challenge all-comers to see if they have what it takes to last the full ride. We encourage all sponsors, players parents and supporters to join in the fun. The entertainment gets underway at 6pm.
Other key dates over the coming months are:
NPOB RODEO                  1st June 7pm     (Dress code- Cowboy/Gowgirl)
Final club match              22 June
Club finals                         13 July (Yarrow Stadium)
Senior Prize giving           20 July
Club AGM                          20 November
Updates on these events will be provided in due course.
The Club produced an Anniversary book for the past 100 years (Authors Chesty Earle, Paul O'Neill, Alistair & Marilyn Reid) and we still have some available @ $25.00 each. This is a great record of the history of the Club and would make a wonderful addition to your book collection or as a gift. If you would like to purchase a book please contact either Alison Reid 021-2447644 or Sue Mitchell 027-2985522.