Round 1, Week 4 Update
Thursday, April 26 2018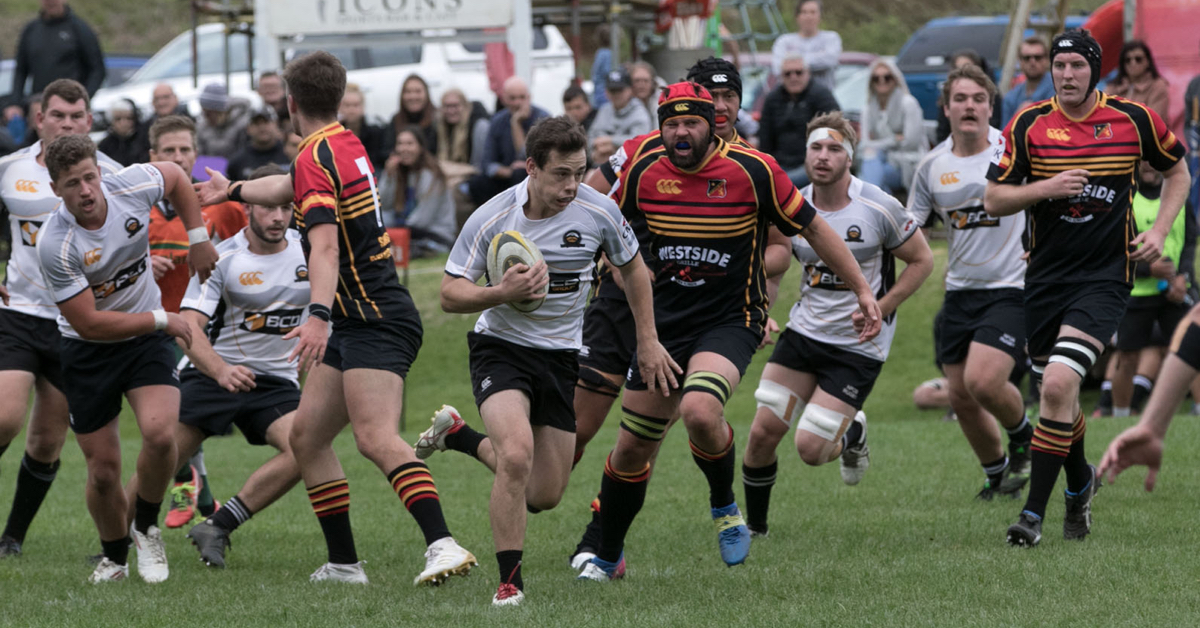 Saturday 21 April was Sponsors Day at Vogeltown Park and the club was pleased to be able to show its appreciation to the Sponsors for their support for 2018. The good crowd of spectators was able to enjoy the sunshine and some great games of rugby with the Premiers, Division 1 and Colts sides playing Spotswood United and the Division 2 side playing Bell Block.
The BCD Group Premiers in contrast to earlier games started slowly and found itself trailing 12-0 after 15 minutes. Old Boys then found its form and managed to score a couple of tries to bring them within striking distance being 19-12 down at half time. In the second half Old Boys were able to increase the pace of the game and establish dominance to take a 20-19 lead with 10 minutes to go and then managed to finish with a late converted try to take the game 27-19. With the win Old Boys is now joint leader of the competition points table with Southern. Key players for Old Boys were Brayton Northcott-Hill, Michael Loft and Caleb Mawson.
The Alsco Senior Division 1 side got back on track with an exciting win 34-24 win. The team put in a good performance following on from some good effort at training this week after the disappointment of last weeks result. The forwards were again able to dominate their opposition and provided the backs with some front foot ball to allow them to score some great tries. The team is building well and thanks again to Rick Fabish for making himself available to provide some cover in the backs. Players of the day was Richard Darney with good performances also from Sam Wairangi and Gerard Miller.
The Sterile Services Division 2 team faced Bell Block who are always a tough proposition. Bell Block thrive on confrontation and enjoy the combative nature of contact. That said, it was a game played in good spirit but simply, Bell Block were just too fast and too strong. Old Boys put up a brave showing but they could not stem or slow down the tide of Bell Block possession. However, it did not always go Bell Block's way with man-of-the-match Michael Curruthers simply huge on defence and he scrambled all afternoon. He was supported by Matthew Blackwell who played his first full game in 2 years after numerous injuries and captain, Stu Cade as per usual, led from the front.
The Pepper Construction Colts unfortunately could not maintain its unbeaten run going down 27-25 to Spotswood Colts. The lead changed hands on a number of occasions throughout the match but unfortunately Old Boys were unable to get the vital points towards the end of the game to win the match. The team battled very well against a much bigger Spotswood team and showed they have plenty of ticker scoring some excellent tries when they move their opposition around the paddock and get the ball wide. Old Boys player of the day was Kaydem Hare.
The Junior Club had a week off with school holidays but are back into it on Saturday morning at Vogeltown Park. We are sure there will be plenty of players, parents and grandparents fronting up again this week.
This weekend (28 April) the Premiers, Division 1 and Colts sides play at Vogeltown Park while the Division 2 side travels to Toko. Match details are:
Division 1: Stratford/Eltham @ 1pm
Colts: Stratford/Eltham @ 1pm
Division 2: Toko (at Toko) @ 1pm
Next weekend (05 May) the Premiers, Division 1 and Colts sides take on Tukapa at Sanders Park while the Division 2 side takes on Spotswood United at Vogeltown Park.
Over the coming months the match-day sponsors will be:
28 April: Stratford/Eltham, Speedy Signs
19 May: Tukapa, Old Timers Day, Mark Newman Memorial Trust
02 June: Southern, Chemwash Taranaki
09 June: Inglewood, Chad Niwa Builders
23 June: Clifton, Rampage Fitness
We look forward to catching up with the Sponsors for these occasions.
Key events planned for the coming months are:
Old Timers Day 19 May (Home game vs Tukapa)
Club night / entertainment 02 June
Club night / entertainment 23 June
Club finals 14 July (NB at Jubliee Park Inglewood)
Senior Prize giving Late July
Updates on these events will be provided in due course.
For club updates and progress updates for the games and events, log-on to the club website www.npobrugby.co.nz and Facebook page New Plymouth Old Boys' Rugby. We have a new Facebook Page where we have been streaming games live when the internet connection is sufficient. Please go onto the new Facebook Page and press "Like it" for updates i.e. New Plymouth Old Boys' Rugby Club.
In closing the Club would like to wish Chris Kleinsman of TBS Group, one of its Premier Player Sponsors, all the best in his battle to regain his health after sustaining injuries last week. Our thoughts go to Chris and his family.
Cheers
Keith and Owen