Round 1, Week 5
Thursday, May 3 2018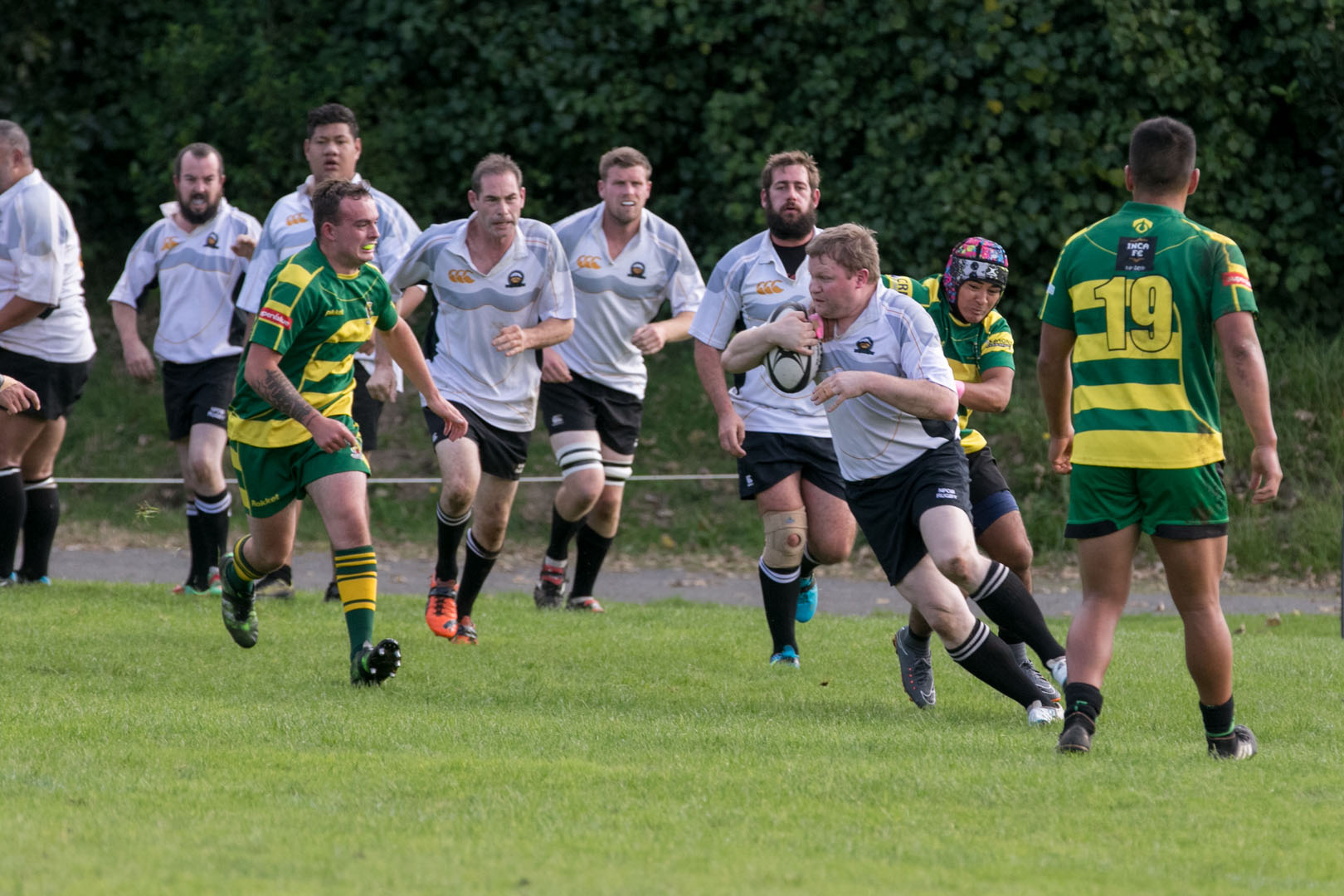 Week five of the first round of the competition is now complete following Saturday's (28 April) matches which saw the Premiers, Division 1 and Colts sides playing Stratford-Eltham at Vogeltown Park while the Division 2 side travelled to Toko.
The BCD Group Premiers were able to put together some good rugby early in the match in wet and greasy conditions, scoring two tries to lead 11-5 at the end of the first half. In the second half Old Boys struggled to get any continuity of possession and field position and had to defend for long periods as Stratford / Eltham mounted continual attacks on its line and for the most part they defended successfully. Stratford-Eltham however managed to score its second try to trail 11-10 with 30 minutes to go. Old Boys managed a second penalty with 20 minutes to go and hold on for a hard fought 14-10 win. Key players for Old Boys were Michael Loft, Matt Guthrie and Toby Burkett. The Premiers now sit second on the competition ladder with 4 wins from 5 games.
The Alsco Division 1 side again showed that forward dominance at the set piece and ranging support play provides what is needed to beat a bigger team. Stratford-Eltham's huge forwards had to defend for large chunks of the game which meant they lacked the drive on attack when called for. The front foot play from the forwards lead by a barn storming game from Gerard Miller gave our backs licence to attack across the park. Sam Wairangi was impressive on the outside while Cole Paulin carved up the mid-field. Cole shared the Player of the Day honours with Gerard Miller. Richard Darney again played solidly from fullback looking dangerous with every counter attack run. The added difference over Stratford-Eltham was an ability to inject a powerful bench, with players like Willie Lane, Dave Allan and Savai'i Civikisuva having a huge impact on the game. Welcome also to our Frenchman Alex Roux who came on in the second half and defended well on the wing. The Division 1 side, with three wins from five matches, sits in the middle of the competition ladder
Sterile Services Division 2 team finished second in its match against Toko 56-7 loss. It was a frustrating day as while Old Boys competed diligently, lack of composure and discipline made a difficult day even more difficult. Old Boys cause was not helped by having to defend with reduced numbers after two yellow cards and a Red Card (2 yellows issued to same player) adding more pressure on a tiring Old Boys team. As always Stuart Cade never gave up and gave as much as he got and Johnny Walker who game-after-game proves his absolute worth with his relentless workrate. Player-of-the-day was awarded to Abel Robertson who firmly believes this was awarded for racking up another 80 minute game rather than any on-field prowess.
The Pepper Construction Ltd Colts team bounced back after the previous week's loss to Spotswood with a solid win over Stratford-Eltham 31-14. At times the team found itself under a lot of pressure on its goal line but held firm with some desperate defence. Old Boys were able to run in five tries on Saturday including a very good try scored by Terrell Erwood after a simple miss-two where he got on the outside of his opposite and ran in the try from 40m. The team has been working really hard over the last couple of weeks on getting its pod system working and the hard work pays off and they are able to move teams around the field when they maintain possession. The big work-on for the next few weeks will be defensive systems. The hard-man award for the day went to Elijah Henderson and player-of-the-day to skipper George Smith. The Colts team sits second on the competition ladder with 4 wins from 5 games.
The Club was pleased to be able to provide entertainment by band "Off The Cuff" at the clubrooms after the match with Club legend Bruce Sutton joining in to showcase his singing skills and prowess.
The Junior Club got its season underway again after a week off for school holidays. Match results and other details are available on the website.
This weekend (05 May), the Premier, Division 1 and Colts sides take on Tukapa while the Division 2 side takes on Spotswood United. Match details are:
Premiers: Tukapa @ Sanders Park, 2.45pm
Division 1: Tukapa @ Sanders Park, 1pm
Colts: Tukapa @ Sanders Park, 1pm
Division 2: Spotswood United @ Vogletown Park, 1pm
Next weekend the Premiers, Division 2 and Colts sides take on Inglewood under lights at Jubilee Park on Friday night (11 May) while the Division 1 side has a bye.
Over the coming months the match-day sponsors will be:
19 May: Tukapa, Old Timers Day, Mark Newman Memorial Trust
02 June: Southern, Chemwash Taranaki
09 June: Inglewood, Chad Niwa Builders
23 June: Clifton, Rampage Fitness
We look forward to catching up with the Sponsors for these occasions.
Key events planned for the coming months are:
Old Timers Day 19 May (Home game vs Tukapa)
Club night / entertainment 02 June
Club night / entertainment 23 June
Club finals 14 July (NB at Jubliee Park Inglewood)
Senior Prize giving Late July
Please see the attached flyer for the next event and further updates will be provided in due course.
It would be great if all sponsors and Old Boys could come along and support the Club on 19 May for Old Timers Day vs Tukapa. Hopefully we will be able to enjoy some fine rugby with success for all of the teams.
For club updates and progress updates for the games and events, log-on to the club website www.npobrugby.co.nz and Facebook page New Plymouth Old Boys' Rugby. We have a new Facebook Page where we have been streaming games live when the internet connection is sufficient, so if its wet you can enjoy the match from the clubrooms while enjoying refreshments. For access to the website please go onto the new Facebook Page and press "Like it" for updates i.e. New Plymouth Old Boys' Rugby Club.
Cheers
Keith and Owen