Round 1, Week 6
Friday, May 11 2018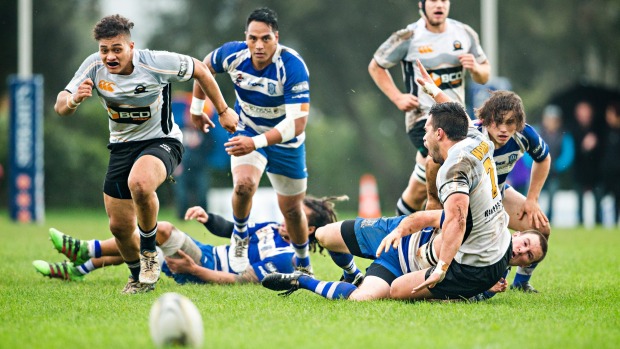 For week 6 of the competition the Premiers, Division 1 and Colts sides travelled across town to take on arch rival Tukapa at Sanders Park while the Division 2 side hosted its Spotswood counterparts at Vogeltown Park.
The BCD Group Premiers once again got off to a flying start scoring 3 great tries in the opening 20 minutes to Matt Guthrie (2) and Brayton Northcott-Hill with Old Boys enjoying good field position and possession and playing entertaining rugby. Tukapa however stormed back into the game to take a 19-15 lead before Old Boys scored another try to Matt Guthrie (hat trick) to take a 22-19 half time lead. In the second half Tukapa dominated the Old Boys in all facets of the game and took advantage of their dominance to score a further 18 points to take a well deserved victory 40-22. Players to stand out for Old Boys and to pick up points were Kaylum Boshier (3), Matt Guthrie (2) & Michael Loft (1). With 1 game to go in the first round the Premiers sit second on the competition ladder.
The Alsco Division 1 team notched up an important win against old foes Tukapa. Old Boys started the game extremely well with a 7 pointer after a concerted effort in the Tukapa half. Wave after wave of attack looked like try No. 2 was imminent until a Tukapa intercept from inside their own 22 saw them run the length of the paddock to score. NPOB lost a little confidence and were soon down 12-7. Captain Jemayn Kepa scored again before he and Cole Paulin left the field with concussion issues before half time with Cole receiving a mandatory Blue Card. NPOB's were down 19-14 at the break. Changes at half time and a re-shaped backline saw a determined and gritty effort rewarded with 4 second half tries. Replacement Dee Ngatia was inspirational as was Ant Taylor whose man-of-the-match performance saw Old Boys resurge from 21-31 down to take the match 41-31. Ant worked hard all game with some impressive cover and counter attack. He was well supported by James McKerrow who's try early in the second half capped of a stellar performance. Troway Hayes whose diversity is a real asset to the team, played well from loose forward to wing. The team will finish round 1 cemented in the top 4 and welcome the bye this weekend.
The Sterile Service Division 2 played Spotswood United in what was a bottom of the table clash. Both teams were desperate to evade the wooden spoon label which lead to a hard fought, at times emotional, full-on encounter. Spotswood however proved to be too good with a 48-24 win. Such was Spotswood desire to win, a few Division 1 players made an appearance as Spotswood Division 1 team had a bye. Old Boys couldn't counter the effects of its traditional slow start and despite some fantastic combative tries, could not quite address the attacking Spotswood flair. Player-of-the day Dan Cowley was immense. The effort belied the fact that Dan is not the biggest man on the field and despite being a winger, he played outstandingly at flanker. Paddy Morris and Mike Carruthers are special mentions who would cause much havoc against a Spotswood pack who had to work harder than they would have liked.
The Pepper Construction Colts managed a hard fought and well-earned 28-24 victory against the Chooks. They may have underestimated the opposition after its form over recent weeks but it was clear from the start of the game that Tukapa were there to play and they brought a lot of purpose and structure to their game. Old Boys struggled to get any ball in the opening 15 to 20 minutes but they weathered the storm and slowly ground their way into the game with a couple of well taken tries late in the first half. If Old Boys thought turning around with the slight breeze was going to make things better – it wasn't and they soon found Tukapa leading 24-15. Old Boys really had to dig-in and a late penalty got them back in range before two tries from player of the day Devin Lewis using the newly practiced driving mauls saw the team take the lead. Old Boys had an opportunity to kick another penalty and go out by 7 points but with the ground announcer giving the wrong score the Captain called for a kick into the corner looking for a try thinking Tukapa was in the lead. Old Boys found themselves in desperate defence on its goal line holding Tukapa out for the last 5 minutes. The Colts team sits second on the competition ladder.
The Junior Club continues with its competition and draws are available on the website www.trfu.co.nz.
This weekend the Premier, Division 2 and Colts sides take on Inglewood in the last game of Round 1. The Division 1 side has a bye. Match details are:
Premiers: Inglewood @ Jubilee Park, Friday 11 May, 7.40pm
Division 1: Bye
Colts: Inglewood @ Jubilee Park, Friday 11 May, 6.15pm
Division 2: Inglewood @ Jubilee Park, Saturday 12 May, 1pm
Next weekend (19 May) is Old Timers Day and all senior sides will take on Tukapa at Vogeltown Park in the first game of Round 2. The Premiers in particular will be looking to reverse last week's result while the Division 1 and Colts sides will be looking to continue their good form and the Division 2 side will be looking to gain its first victory for the season.
19 May: Tukapa, Old Timers Day, Mark Newman Memorial Trust
02 June: Southern, Chemwash Taranaki
09 June: Inglewood, Chad Niwa Builders
23 June: Clifton, Rampage Fitness
We look forward to catching up with the Sponsors for these occasions.
Key events planned for the coming months are:
Old Timers Day 19 May (Home game vs Tukapa)
Club night / entertainment 02 June
Club night / entertainment 23 June
Club finals 14 July (NB at Jubliee Park Inglewood)
Senior Prize giving Late July
Please see the attached flyer for the next event and further updates will be provided in due course.
It would be great if all sponsors and Old Boys could come along and support the Club on 19 May for Old Timers Day vs Tukapa. Hopefully we will be able to enjoy some fine rugby with success for all of the teams.
For club updates and progress updates for the games and events, log-on to the club website www.npobrugby.co.nz and Facebook page New Plymouth Old Boys' Rugby. We have a new Facebook Page where we have been streaming games live when the internet connection is sufficient, so if its wet you can enjoy the match from the clubrooms while enjoying refreshments. For access to the website please go onto the new Facebook Page and press "Like it" for updates i.e. New Plymouth Old Boys' Rugby Club.